So I have this thing with salmonella, okay it's a huge thing. I have to sanitize everything that comes in contact with anything that may have salmonella. I honestly turn into a mad women! I guess it is because I cannot get sick, I have James, I don't want to get him sick and Logan cannot get sick either. If just one of us were to get sick, it would be miserable for us all. And the fact that you can get sick from something that could have been prevented by just being careful. It just makes me crazy!
Tonight we had BBQ chicken for dinner and Logan was helping, actually he kinda did it all (thank goodness, he is wonderful). Well he cut up the chicken and long story short he doesn't have the concerns I have about salmonella. So I followed behind him disinfecting everything he touched. I was a bit ridiculous but I cant help it. I know I need to be patient and I really am trying it's just hard when I am so obsessed about something he is not. In the end he knew it bothered me and apologized, hopefully we will both be able to handle my craziness together.
On a happier note we were able to roast some mallows on the coals from dinner. Logan called it our date for the week. :) We brought out some chairs and roasted our mallows. We both eventually ended up on the grass, it was so nice out, the weather was perfect. James watched from the screen door, he would stare at our mallows each time we would come in for more. Our five minute date was the most perfect way to end a somewhat interesting night.
So we have a tiny grill, but it cooks what we need it to so it is perfect.
Isn't he so handsome I love his glasses, so classy.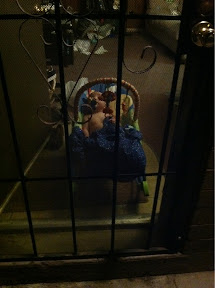 James safe inside, away from the pesky moths and other night yuckies.
Just the other day we were asked if we had the same glasses. :) It reminded me of those elderly couples who dress like each other after being together so long. It brings me so much joy that we will grow old together.
I love Logan he keeps me in line when my silly craziness grabs ahold of me. He brings me back to what really matters, our family and our love.