This has by far been the busiest month and I must say the best yet.
I finished off January with going to the wedding expo at the Radisson,and because I work there and i love weddings I helped out.... If you were the lucky girl there to see all the wonderful vendors I was the one registering all the brides. My morning was very enjoyable, I was able to congratulate all the brides and see how excited they were about their upcoming wedding. I was also able to see some vendors who were at my wedding! Cameron and Kelly Studios, what talented women, I love all their work! Sedona Sweet Arts was at the expo with cake samples....yum! Donna Joy even remembered my cake! Jason from Peaks Audio was also at the expo. Last year the same day Was one of the best days ever.... It was the day that Logan proposed!! I remember that day so well it was amazing! We were both so excited to spend he rest of our lives together.
The 6th was my birthday and also Superbowl Sunday, I was opposed to celebrating or watching the superbowl. Logan gave me the best birthday yet! Since my birthday was on a Sunday we decided to celebrate it in Saturday and it was wonderful. Logan surprised me with a spa trip!! He took me to the spa to get a facial, shampoo and blow dry plus a make up application. It was so relaxing and absolutely amazing. After the spa Logan gave me my present... He bought me Uggs!! I almost cried! On Sunday, we were surprised by my in-laws I was so excited to see them. They drove all the way from Missouri! We spent the night with them and a few friends it was most wonderful!
On the 8th we spent the day with our family in Cottonwood, all the girls and I went shopping (I bought maternity clothes!) while the guys went hiking. It was so nice to see everyone, especially Ma and Pa Bliss and David.
Which brings us to today Valentine's day... I love the holiday now that I have someone so wonderful to share it with.... I don't know our exact plans for tonight but as long as I am with Logan I am one happy girl.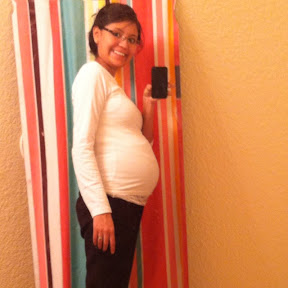 27 weeks down 13 to go :)
- Posted using BlogPress from my iPhone